We are a prestigious
Brand of Italian premium
golfwear and sportswear.
Chervò is a prestigious brand of sportswear, designed for the
golf-course and dedicated to leisure time. It is designed for
customers who love to express their own individuality and
lifestyle by wearing innovative and high-quality items of clothing
and accessories.
Chervò dedicates its collections to those who enjoy an active,
chic life that aspires to excellence.
Chervò accompanies its customers from moments of sheer
relaxation to the commitment on the golf-course, always
guaranteeing a most selected dress-code with high-performance
technical garments for the sportsman or woman.
Wherever, Whenever.
1990s
A Golf Collection in the making
2000s
A journey to the Far East
2010s
Vertical Integration
Founded in 1982 as a skiwear Brand, Chervò rapidly became a worldwide success thanks to its Chic-Tech style, on and off piste.
In this decade of incredible growth, Golf was discovered to be the very embodiment of Chervò's Chic-Tech vision. Chervò's entrance in the market is disruptive thanks to its innovative products and trademarked technologies.
Chervò expands in the Far East, specifically in South Korea, Japan, China and Vietnam, becoming the most prestigious European golf apparel Brand to this public.
Chervò expands into retail, both digitally and physically with a Flagship store, pro-shops in many locations as well as concession stores. Chervò takes over its USA license, moves offices to Palm Beach and partners up with the Ryder Cup as an official licensee.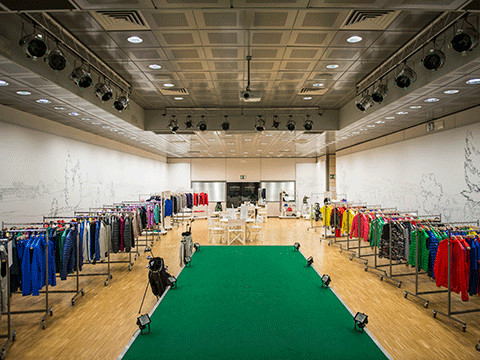 Chervò aims at solidifying its Brand reputation and recognisability as well as furthering its presence in historic and new markets. Chervò renews its digital approach as well by launching a Brand new online boutique platform.
The success of Chervò doesn't end on the golf courses and in
the most exclusive club houses. The Chervò products are indeed
just the thing for everyday living. The brand's dress code is
perfect for feeling just right any time of day where the
comfortable, sporting style makes its mark with a dash of
legance.
Chervò is just the ticket for those travelling, either for business or
pleasure, always feeling at ease with oneself.
Today the new challenge facing Manfred and Peter Erlacher, as
well as all the Chervò staff, is to bring the Chervò style to all the
countries of the world where golf is played and where Italian
creativity makes the difference.
WHERE WE ARE
We are in over 1,000 sportswear and golfwear stores all over the
world.
Choose Chervò everywhere you go and you'll have maximum
comfort wherever, whenever.
PLAYERS
Many professional golfers have chosen Chervò on the green. Our clothes are indeed created from technologically advanced fabrics, capable of protecting players against all weather conditions for long periods. We at Chervò believe in the potential of these talented young players and we are supporting them to help them grow with us!